Tuesday, 5 August, 2008, 16:59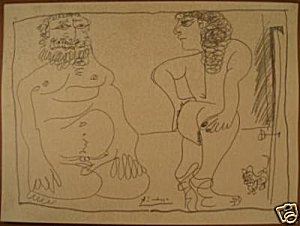 Watch this item
Item number: 320282902394
Seller: genovarte. Member: since Apr-02-06 in United Kingdom. Feedback: 100 % Positive. Item location: London, United KingdomWatch this itemThe seller: Wonderful Erotic Scene Drawing Picasso
Fabulous pencil drawing depicting a nude couple in a cartoonish erotic style, typical of Picasso's later works, signed at the low middle. This is a wonderful example of a sketch/drawing

Artfakes.dk:
This drawing is NOT typical for Picasso's later works, it is typical for thausands of FAKES signed Picasso
---
Sunday, 3 August, 2008, 22:30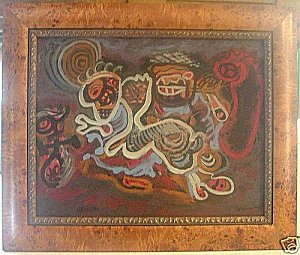 Watch this item
.
Item number: 140254043157
End time: Aug-06-08 14:03:36 PDT
Seller: itishappening. Member: since Dec-01-98 in United States. Feedback: 95.9 % Positive. Item location: Lexington, SC, United States.

The seller's description:
Original 1959 Karel Appel Abstract Painting ~COBRA~
Being offered is an original painting by the Dutch abstract-expressionist painter, Karrel Appel. Medium: acrylic on hand-stretched canvas. Signed "Appel" and dated '59, bottom, left-hand corner. Original, burled walnut frame w/ inner abstract, gold trim. Without the frame, this painting measures 20 inches across by 16 inches high. I have provided a photo of the painting out of the frame; see image.. Brief history: this painting was purchased recently at an estate sale in High Point, North Carolina. The auctioneer apparently had no idea what he had in this painting, and neither did the owner or other bidders, for that matter.. So, it was obtained for a very reasonable price. Now, I have studied this painting carefully, and in my honest opinion it appears to be vintage/original, and by the hand of Karel Appel. Look at the images, carefully.. The art is typical of the work produced by Appel in the era.. The paint looks older, the canvas and frame are of the right period, and the signature is correct. Again, look at all the images.. My impression of this painting, is that Appel was trying to capture a beach scene with this piece, whereby a young, beautiful girl figure(at the far left of the painting..) is being eagerly chased by a sexual pervert(please excuse the pun..) and his side-kick.. ..and all are being followed by a red phalic symbol to the far right, who I believe represents the devil. The deviant and his friend seem to be kicking up water(look at the blue paint..) as does the girl, and some sea critters have apparently squirted out from underneath the deviant. Sun and clouds in the background. That's my take on this painting, but you are welcome to make up your own mind.. I think it's worth mentioning, at this time, that the frame is not only vintage, but of the superior quality one would expect to find an original Appel painting in.. Beautiful grain, look closely.. Condition of painting: a couple of light fleabites and scratches, and expected fading due to age/elements/etc. Condition of frame: excellent. Someone obviously took very good care of this painting.. Ok, so why am I listing this painting on Ebay with such a low opening bid($5000) and no reserve, and not letting some big auction house sell it for me? Simple: auctions like Sothebys and Christies, or any fine auction house, for that matter, will not accept any painting without an original provenance and coa(certificate of authenticity) Trust me, I've already tried this, before, with no success. So, I've listed the painting on Ebay, and you could possibly own an original painting by Karel Appel, for a small fraction of what it may actually be worth.. Again, look at what you would be getting, here, and consider the possibilities.. Lovely painting... Good luck, and email me with any questions..
Artfakes.dk:
This painting is far away in the style of the famous Cobra painter Karel Appel.
It's a FAKE signed Appel 59.
---
Saturday, 2 August, 2008, 17:55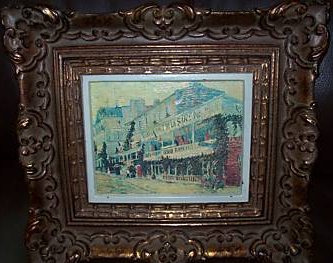 Watch this item.
Starting bid: US $899,000.00.
Item number: 230276861550

Seller: burtley1. Member: since Nov-28-02 in United States. Item location: carbondale, IL, United States.

The seller's description:
Vincent Van Gogh
Oil on Canvas
Not authenticated
This is a beautiful oil on canvas painting, which was bought a a local thrift store.
This is from a painting done by Van Gogh, 1887 in Paris. I have not been able to find any duplicate of this particular opainting and the framing co. In doing my research of the framing company, Turner mfg company in Chicago Illinois, I found that the company folded in 1960, and was established in the 1800's by a family from Germany. Turner mfg company was America's largest producer of decorative accessories.
The painting and frame are in excellent conditions, will enhance any Van Gogh collection.
This painting is priced to sale immediately at a excellent price as I was told by someone not authorized to authenticate art work. Just based on his experience of vintage artwork.
At this price the purchaser takes the gamble. If this painting was authenticated it would be millions of dollars.
Those collectors know the history behind Vincent Van Gogh, and know that this size is unusual and rare.

Please only serious inquiries only. Payment is definitely expected and cleared, beofre any shipping done. Paypal,cashier's check or inter-bank wire transfer will be accepted.
Thank you so much for ndropping and checking out this deal of the year. Look forward to doing business with you. I also have other vintage antiques collection. No return, because I know the collectoraburtley@hotmail.com
End time: Aug-04-08 21:18:31 PDT

Artfakes.dk:
Scandalous that ebay does not stop that kind of fraudsters.
Last february the seller tried to sell it without success.
The seller is not just a fake seller, he/she is a gangster.
The picture is NOT an oil painting by van Gogh it is JUST a worthless copy you can buy everywhere for $50. Maybe the seller is stupid.

The original van Gogh, »Le restaurant de la Sirène à Asnières«, 1887, belongs to Museé d'Orsay in Paris.
Go to Paris

The samme FAKE seller sells also the two reproductions under here for being original works of art by Maurice Utrillo. But these two pictures are reproductions in same way as the van Gogh and worth $50 each.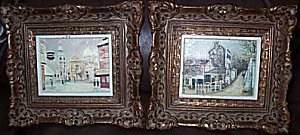 Watch this items
Item number: 230276863585
Starting bid: US $475,000.00
---
Friday, 1 August, 2008, 16:04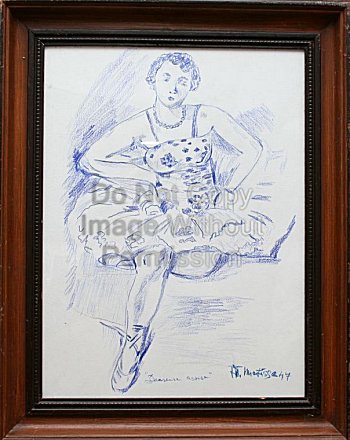 Watch this item
Item number: 200242828888
End time: Aug-05-08 16:42:56 PDT
Seller: lynnster101. Member: since Apr-26-03 in United States. Feedback:100 % Positive. Item location: West Coast, United States.

The seller's description:
Colored Drawing on Paper signed H. Matisse '47 , 12" x 16 7/8" visible drawing, 16" x 19 3/4" framed, signed lower right H. Matisse '47.
TERMS OF SALE: ALL ITEMS ARE SOLD AS-IS. We list items to the best of our product knowledge and testing capabilities. We are not experts and may unintentionally miss something.

Artfakes.dk:
Across the front- and back page of the drawing the seller has written the following: »Do not copy without permission«.

If this is the work of the seller, what it surely is, then he has got the copyright on it. But it does appear as a genuine drawing by Matisse fully signed, and the seller has of course no copyright on genuine works of art by Matisse.

The seller does not write that this is a genuine Matisse, but as do lots of other conmen on ebay he uses this clever way of selling false pictures.

The seller writes that he is not an expert. But he is without doubt deliberately about this drawing being whining false. And this is the course why he forbids people to copy it. But here on Artfakes.dk we ignore this kind of prohibitions and we reproduce hereby the drawing.
---
Thursday, 31 July, 2008, 19:26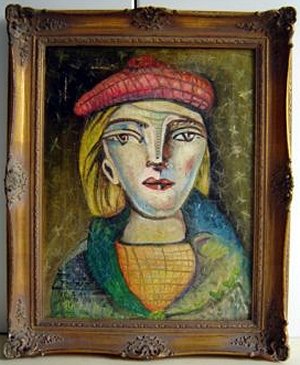 Watch this item
End time: Aug-03-08 20:30:00 PDT
Seller: **jamesbond**. Member: since Sep-11-06 in Germany. Feedback: 100 % Positive. Item location: EBAY.com, Germany

Sellers Description:
Genuine Picasso oil on canvas Painting
This auction is for a real oil on canvas Painting with a beautiful wooden baroque frame, included in this auction. This piece is a rare to find due to its size, age and beauty. It is an original oil on canvas painting that depicts a beautiful woman with a cap. The painting is indistinctly signed by Picasso and dated 18.3.38.

I consider the painting to be in excellent all original condition although there are some age craquelature seen in a small area on the canvas. I fully guarantee the authenticity of the artwork listet as I have described it.

Shipping will be fully insured to the winning bidder. Painting measures with frame 45 x 55 cm and without 35,5 x 45,5 cm.

I have added a dozen images for review. Please only place a bid, if you want to pay this item. Otherwise you have to do with my lawyer.

If any information is missing in this item description, please send me an email, I will reply as soon as possible.

All pictures and photos are copyright protected.

I accept payment by paypal and by bank wire transfer / Überweisung.

Thank you for viewing this listing !

No refund and no return.

Artfakes:
The seller writes: »All pictures and photos are copyright protected«.
Nonsense! There has NEVER been copyright on FAKES. NEVER EVER!
The seller sells the painting being a genuine work of art by Pablo Picasso but Picasso has never touched this painting. It's a FAKE and the seller knows that. This is a criminal act. He/she is a FAKE seller.
---
Back
Next