Thursday, 5 January, 2006, 00:18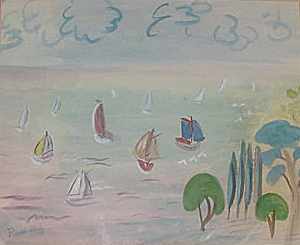 Watch this item
The seller, imaasell, Flashing, New York, United States:
DUFY RAOUL - 1880 - 1953, American (New York), well listed artist.
Up for bid is georgeous watercolor "Beach Scene" signed Raoul Dufy. This is a wonderful high quality underglass painting, signed lower left. Although the painting is distinctly signed by the named artist or maker, no Certificate of Authority is implied. Sold "as - is".
artfakes.dk:
If you need a certificate you have to contact Mr. Eric I. Spoutz in Detroit, Mi.
---
Wednesday, 4 January, 2006, 14:08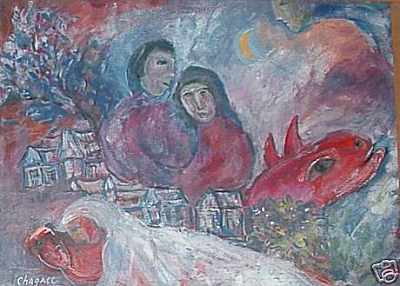 Bidding on this item has ended. 0 bids.
The seller, di-laurenti-auctions, Toni Castelli, Member since Feb-20-01 in United States, Feedback Score: Private Positive Feedback: 100%
Attributed to Marc Chagall. Gouache on paper, 1964. 23 x 34 cm.
Provenance: Quentin Crisp, Susan Sontag, STABLE Fine Art Investments
Expertise: Dr. Ernst Scheyer
ALL SIGNATURES ON THE DOCUMENTATION WHICH ACOMPANIES THE ARTWORK THIS EBAY AUCTION REPRESENTS HAS BEEN VERIFIED FOR AUTHENTICITY.
THE EXPERTISE FOR THE ARTWORK THIS EBAY AUCTION REPRESENTS, COMES FROM DR. ERNST SCHEYER:
Dr. Ernst Scheyer (Born: July 3, 1900; Died: December 4, 1985),was born and educated in Germany, where he received his doctorate in political science (rer. pol.) at the University of Freiburg, and his Ph.D. in Art History at the University of Cologne. Formerly professor of art history at Wayne State University in Detroit, he was also the assistant curator at the municipal museums of Cologne and Breslau, and honorary research fellow at the Detroit Institute of Arts. Dr. Scheyer's personal, professional, and research related documents are archived in the National Collection of Fine Arts: The Smithsonian Institution: Archives of American Art located in Washington D.C.
artfakes.dk:
One more fake offered by the great fake seller, Toni Castelli.
---
Tuesday, 3 January, 2006, 00:00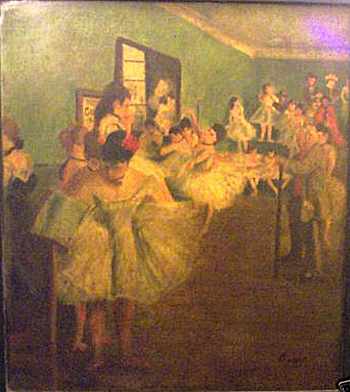 Watch this item
The seller, madyann9503, United States. Positive Feedback: 100%:
These came from a very wealthy estate believed to be all original do to home contents.
artfakes.dk:
It comes from your own studio.
Take a look at an original Degas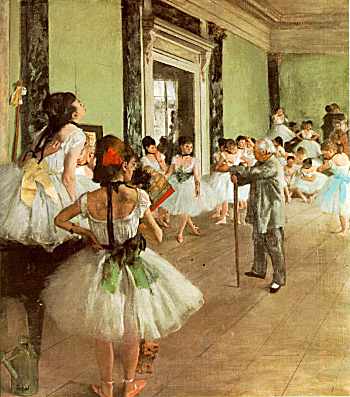 ---
Monday, 2 January, 2006, 11:00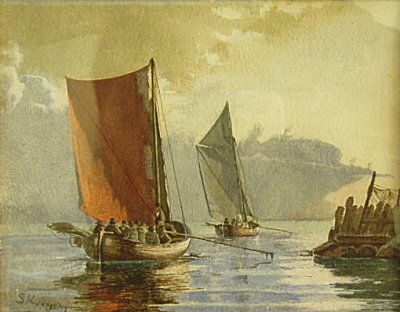 Watch this item
The seller, www.lauritz.com:
Item number: 640414 Peder Severin Kr°yer 1851-1909
PEDER SEVERIN KRěYER: Pastel and watercolour, Fishing boats, HornbŠk. Signed. S. Kr°yer 87. 25 x 32 cm
artfakes.dk:
This picture has nothing to do with the famous Danish artist P.S. Kr°yer. Lately we have seen a lot of P.S Kr°yer falsifications.
---
Sunday, 1 January, 2006, 00:00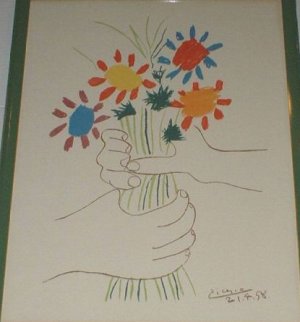 Watch this item
The seller, danielr4857, New York, NY, United States:
1-Mixed-Media artwork on watercolor paper attributed to Picasso in very good condition back of paper has tan marks along edges due to time with original frame the frame has ware but is in fair condition.
artfakes.dk
This picture is a well-known Picasso motive, but it's not the original. $2,000.000 is indeed a lot of money for just another copy.
---
Back
Next