Sunday, 4 December, 2005, 00:00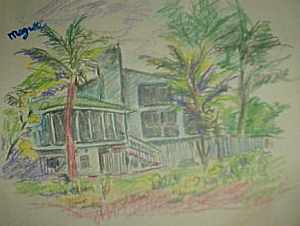 Watch this item
The seller, expaintings, Cornwall, NewYork, United States:
RENE MAGRITTE DRAWING BELGIUM ARTIST
Looks like pencil crayon type drawing please see images, on hard paper? I will stand behind this to be a real drawing and not a print!. Size 9in.x 12 in.good condition good luck. I dont know this artist? So you be the judge no reserve.
artfakes.dk:
You are an art swindler! Off course you know Magritte. It is a lie trying to make somebody believe that you don't.
---
Saturday, 3 December, 2005, 00:00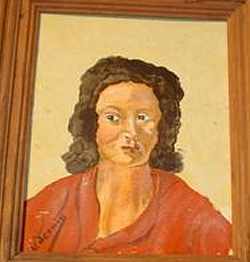 Watch this item
The seller, zuriels, Central FL, United States:
This is a beautiful old framed and signed oil on board in good condition. Some very slight surface grime and abrasion. Obtained at used goods sale in Southern Florida. A great find and a wonderful bargain! Authenticity is guaranteed.
We are now a ***GOLD*** PowerSeller!
artfakes.dk:
You are now a ***GOLD*** FakeSeller!
---
Friday, 2 December, 2005, 00:00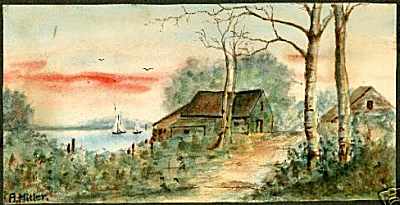 Watch this item
The seller: greggunray, London, England, United Kingdom:
The painting, as the title indicates, is from Hitler's Vienna period (1907-1912). I've attached a scan (of just the photo, not the frame I have put it in -though I am happy to provide them, if requested, or anything else). It's typical of his work from that period; around 15cm by 9cm and depicts a typical country lakeside scene. Unlike some of his paintings from that era, this one is 'signed' as it were - he has written his name in the bottom right hand corner. If you are familiar with Hitler's signature, you may be expecting the so-called 'lightening-bolt' signature as you will see on military documents and, indeed, on another item I am selling. However, this method of signing was not developed by Hitler until he came to power and, thus, should this signature to appear on paintings, it would served as an immediate flag to a fake!It features many attributes typical of Hitler's style: Firstly, the sky is comparable to his other work, and is depicted as an almost living entity. Is also bears similarity to the work of Rudolf von Alt, another Viennese painter admired and mimicked by Hitler. Secondly, Hitler often daubed the leaves on trees, creating a dappled effect that rarely reflected nature or any sense of realism. Leaves and hedges were instead usually used to create a frame along one or more sides of the piece.Thirdly, Hitler's depiction of figures and animals. If present, living entities were often rendered very poorly, with no sense of perspective or realism. It was, in fact, for this very reason that Hitler failed his entrance exam to the Vienna School of Fine Arts. Thus, Hitler rarely chose to include them in his work. However, the board that failed him also noted he was adept at the depiction of buildings, and they were usually fairly accurately rendered.Finally, Hitler's palate was fairly limited, and he stuck to mostly traditional colours, with a very limited sense of imagination. This was, though, likely because he was producing what he hoped to sell as typical country or town "postcard" style scenes.Comparison is likely to be your best guide in determining the validity of any piece of Hitler art, though as I am very well acquainted with his works, I am happy to answer any questions you may have. By Hitler's own accounting, he painted between one and three watercolors a day during his Vienna years, so do not let the "quality" fool you. Also, it is worth bearing in mind the title of that well-known essay, Adolf Hitler: Master of Death; a mediocre painter"!
artfakes.dk:
Hitler never painted in this so-called modern "Thai art factory style".
Each year many Hitler art forgeries are sold. This painting is one of them.
---
Thursday, 1 December, 2005, 00:00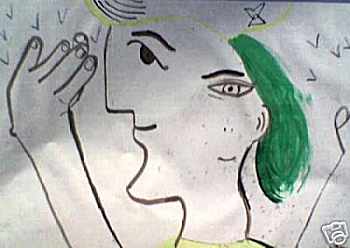 Watch this item
The seller, sapna8917, New Bank, United Kingdom:
PABLO PICASSO 1963 SIGNED DATED -COA-
I have for sale a original 1963 handsigned and dated Pablo Picasso Painting. Described as Dove Love. Any Picasso lover would know about the love he had for birds, and this painting shows two flocks of birds flying around the double faced person, peace birds to the left and hate birds shown in black on the right.
This item comes with all documents attached.
artfakes.dk:
The painting comes with original documents from the sellers parents-in-law. It has nothing to do with Pablo Picasso.
---
Wednesday, 30 November, 2005, 00:00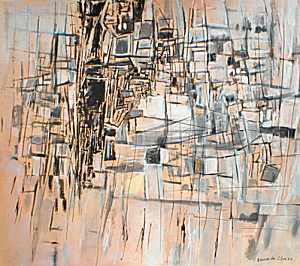 Watch this item
The seller, antiksandmore, Southern USA, United States:
Aquarelle et gouache sur papier signee Vieira da Silva mid part of the century. In excellent condition. Abstact expressionist painting on heavy paper. Possible dating is 1951 per signature. In excellent condition and beautifully executed. The size is 25.2 x 22.3 inches. Signed lower right dated 51. Expertise from an art expert is to be included with this piece. Provenance is private collection ancienne Belgique, to be included.
artfakes.dk:
Yesterday's art faker (11.29, '05) is trying once again. This time an "Utrillo" has found it's way to eBay's black pages.
---
Back
Next