Friday, 4 July, 2008, 00:38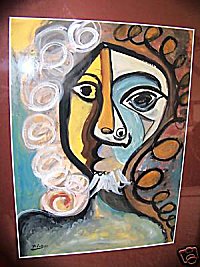 Watch this item
Fake seller: cherdu621 Member: since Aug-21-99 in United States Feedback: 100 % Positive:
PABLO PICASSO-Gouache Painting, Documentation with expertise.
This painting comes with complete provenance.
This was originally part of the R.W. Wolfe Collection, which were donated to Dartmouth University, (Mr. Wolfe' alma mater), for display.
Value of paintings
Some paintings by Picasso rank among the most expensive paintings in the world.
Provenance:
Acquired by Julius R. Wolf from the Estate of Paul Tillich (Hanna Tillich), East Hampton, New York, 1973. Sold from Estate of Julius R. Wolf (by the direction of Mr. Frank Burton, Collection Manager), to Rose Vagavich, 1982. Eric Spoutz purchased the work from Rose Vagavich in 2003. Mr. Spoutz sold the piece to Mr. Andrew Kessler in 2005, and finally Mr. Kessler sold the piece to Mr. John A. Anderson in 2008.
Though this beautiful piece is listed as attributed to Picasso, Dr. Enrique Mallen, the Director of the Online Picasso Project, (which includes over 14,000 entries in the catalog), agreed to give the necessary authentication for a specific fee. His January, 2006 email, stating this, as well as contact information will be included in this sale.
In 2004, an authenticated oil self-portrait of Picasso sold for $104 million at an auction.
Artfakes.dk:
Never buy any painting or work of art coming from Eric I. Spoutz.
Maybe some of them are genuine but you can't be sure.
The American art dealer and art swindler Eric I. Spoutz managed to sell a couple of hundreds of the 2,800 pictures announced below. After a massive daily criticism from artfakes.dk who revealed that all of the pictures put on eBay were false, the probably greatest art swindler in the history of eBay and of a comparatively recent date in the history of world art, stopped his activities. Yet his pictures still circulate as can be seen from the above shown Picasso falsification.
As a matter of fact Mr. Eric I. Spoutz do indeed deserve a prominent place among the most famous fake sellers in the world.
September 28, 2004 -- On September 25th, 2004 Mr. Eric I. Spoutz, Founder and President of the Eric I. Spoutz Collection of Fine Art located in Detroit announced his plans to mount a liquidation program which will include nearly 2,800 works of art from the collection. The works will all be attributed pieces meaning that they have yet to have their individual authenticity confirmed by the notable experts for the respective artists. The collection has decided to liquidate the works via eBay which the collection founder is personally fascinated by,"he elaborated by saying I am greatly intrigued by the implications of a venue for the sale of merchandise through the medium of auction that is essentially controlled not by the traditional corporate world, but by the people, the buyers and sellers I guess what I find so interesting with eBay is that it is a no frills operation, its just a cut the crap and get to the point method for liquidation of ones assets, so were going to run these 2,800 or so pieces on the Bay and see how it goes and if it is as successful as I hope it will be, I think it would be reasonable to say that the eBay corporation will be seeing a lot more business from us because a fact which my friends and colleagues would attest to is that I am always buying new art and selling some of the old to make space for that constant inflow of items.
The collection online sales associate Lisa Marie Martek is expected to initiate sales on eBay starting on the Monday, September 27th 2004 and the sales are estimated to continue over the next 12 months.
---
Thursday, 3 July, 2008, 13:27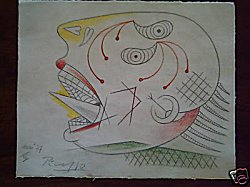 Item number: 330248129725
Watch this item
The fake seller chacho49. Member since Jan-17-05 in United States.
Feedback: 100 % Positive:
PICASSO DRAWING-signed&dated MAI 37- study for GUERNICA
Artfakes.dk:
Not at all! Just one more Picasso falsification and one more fake seller
---
Wednesday, 2 July, 2008, 23:40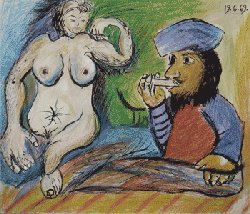 Watch this item
The fake seller: mirmar!1
Member: since Jun-13-07 in United States
Feedback: 100 % Positive
ITEM 270250194166: Pablo Picasso Mixed Media Painting, Untitled (1969)
Here is your chance to own a piece of fine art:
This is an auction for a rare Pablo Picasso crayon [color pencil & chalk] on paper ivory toned paper. Measures Here is your chance to own a piece of fine art:
This is an auction for a rare Pablo Picasso crayon [color pencil & chalk] on paper ivory toned paper. Measures measures 22.44" x 19.29" (57 x 49 cm), relined. Signed 'Picasso' in the upper right margin. Unframed and clean edges. No tears or folds of any kind. There is some foxing and fading caused over a long course of time. Overall condition is good. This is a true collectors choice!
Provenance & Documentation:
1970 - 1991 Gift of the artist to Rafael M. Pacheo Malaga, Spain;
1991 - 1999 Private collection of Alberto Bernacchi Firenze, Italy;
1999 - ... Private collection of Christine Haggerty York, United Kingdom.
Artfakes.dk:Has anybody heard of such persons?
One more Picasso falsification offered on eBay. And one more art swindler
---
Tuesday, 1 July, 2008, 11:08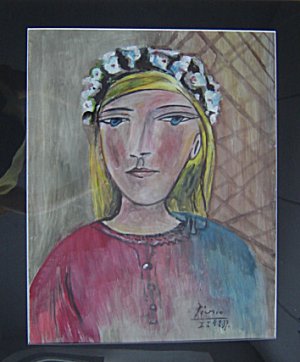 Watch this item
The seller: No Reproduction - No Print - No LithographArtfakes.dk: And NO PicassoThe fake seller: fattony1990.
Feedback:100% Positive. Member:since Dec-16-04 in Germany:
Hi and welcome to my Auction.
This Gouache Painting on Cardboard is of a Lady with Flowers in her Hair and a Face so lovely with blue eyes and rosy Cheeks.
Truly a wonderful Piece to own, and it will make a memorable Gift.
It comes in a 56.5 x 66.5 cm (22.24 x 26.18 inch) wide high Quality Frame with unbreakable Plexiglas,
included in the Auction. This Gouache Painting on Cardboard is ready to hang on your Wall.
This is a very decorative Painting, that would fit into any Decor.
The Condition of this Painting is outstanding, it is signed by Picasso and dated XI 4.2.37. There is also a
Gallery Certificate provided with this Piece from S.P.A.D.E.M. Paris, LE COMITÉ PICASSO. On the Reverse of the Cardboard are some Markings.
Please note: this is a real Gouache Painting on Cardboard, not a Print or Reproduction of an old Painting.
I have included original Photos in the item Description. I think it is better to invest in Picasso Art than in Life
Insurance or Real Estate. Please be sure, that this Gouache Painting will have later a much higher Value than today.
I do not accept Return and I do not Refund.
Buyer pay $110 for Shipping / Handling for this item to US, Canada, Mexico, Australia.
Shipping / Handling to Europe is $80, and to Asia $120.
Accepted Payment Methods: PayPal, Bank wire Transfer.
This item will be sell "as is" from private Seller. Please do not bid, if you do not accept these Conditions.
The Buyer must pay this item within 7 Days after the Auction has ended.
This is a binding Contract between the Buyer and the Seller (§9, Abs. 3).
Thank you and good Luck.
On May-24-08 at 14:51:45 PDT, seller added the following information:
As you can see, I sell the Painting together with the Certificate.
The Winner of this Auction will get this Painting together with the Certificate.
Thank you.
Artfakes.dk:
Dear fattony1990:
You and your painting are reported to eBay.
It's a FAKE, NOT painted by Pablo Picasso.
And you know that.
---
Saturday, 28 June, 2008, 11:31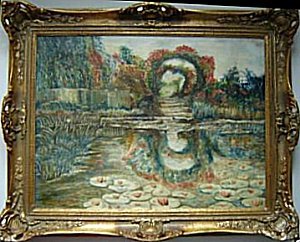 Watch this item

June 29, 2008: Latest news: The seller excluded from eBayThe fake seller, nora.1111 Germany (Feedback 100 % Positive)
Item number: 250263459727:
"Claude Monet - Painting from Garden in Giverny
A real Oil on canvas Painting
This Auction is for a real Oil on canvas painting with a beautiful wooden baroque frame, included in this Auction.
Claude Monet born: November 14, 1840 in Paris died: December 5, 1926 in Giverny
This piece comes with german Provenienz / Letter of Provenance
Claude Monet, the Painter who founded the Impressionist School lived in Giverny for 43 Years. His House and his Garden, the
Village of Giverny and its Surroundings, were his subject matter and they still attract half a Million Visitors each year from all over the World, as well as painters, charmed by the unique Light of the Seine Valley.
Before he moved to Giverny, Monet lived and worked at Le Havre, Sainte-Adresse, Argenteuil, Paris, Louveciennes, Vetheuil - all practically Synonymous with the History of Impressionism. None of these Places held his Attention as did Giverny, where he settled in 1883 and where he died in 1926.
This Oil on canvas Painting is one from 3 Paintings of this kind, which was sold to private.
The Frame measures 79 x 99 cm, the Painting measures 60,5 x 81 cm. The Painting is signed Claude Monet and dated 1917. The Condition of the Painting is amazing.
I sell worldwide to the highest Bidder without any Shipping Costs and personally pick up is also possible.
I guarantee satisfaction of this unique Artwork.
I am a private individual. With your bid you do not have any claims against the seller. I sell the painting as shown.
The Buyer will be Top Secret
Contract:
Your bid is a Contract.
Place a bid only if you're serious about buying the item. If you are the successful and winning Bidder, you have entered into a legally binding Contract to purchase the Property bid on from the Seller. You should contact the Seller to resolve any questions before bidding.
No Return and no Refund !".
Artfakes.dk:
The seller sells this phony for $13,000,000.00.
He/she must be crazy.
Dear seller: You have to inform the FBI about this painting.
We think it will bring you about two-three years in jail selling this
falsification.
---
Back
Next