Sunday, 4 June, 2006, 00:00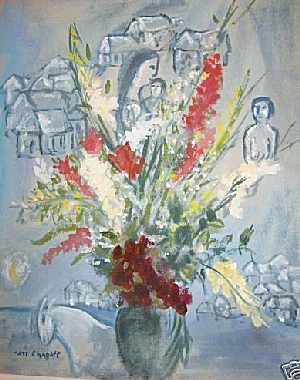 Watch this item
The seller, art-lover10, Woodbury, New York, United States (also known as picasso-and-friends)
.
Feedback: 100% Positive (Very funny)artfakes.dk:
The seller is a fake seller
The painting is a fake
The certificates are fakes
How can an art faker be an art-lover?
---
Saturday, 3 June, 2006, 00:41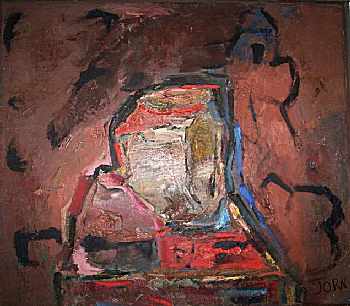 Watch this item
The seller, antiquealley007, Northeast Pa, United States, Item number: 7419325472:
Rare Abstract Oil Painting att to Asger Jorn Museum QU
Asger Jorn [Danish Painter, 1914-1973]This Old Oil painting On Heavy Canvas is superior in quality and composition Outstanding Rare abstract composition. Great detail and skill.Rare opportunity to own such an exquisite piece of art piece measures fairly large 26''x 30''unframed. This painting is very old this is very similar to some of the museum displayed paintings. This painting was purchased at an exquisite fine art and antique vendors sale Bid with confidence you will not be disappointed this painting is simply breathtaking, the photos do not do Justice, it is very hard to capture all the amazing detail. The painting appears to be of the correct technique and subject of that of similar Jorn pieces from the same time frame. Please do your own research prior to bid close.There is only a few experts on this artist and it can take months even years to properly authenticate the piece. Therefore I must sell it as manner of or school of the artist. I must say that this is a Great painting and a beautiful masterpiece for your antique fine art collection!!Item is sold as found all sales are final.Shipping and handling in the US is $47.50 View My Other Auctions! ! Stay Tuned I will be listing More Art !!
artfakes.dk:
A very bad fake and a painting far from the famous Cobra painter Asger Jorn's style.
---
Friday, 2 June, 2006, 17:04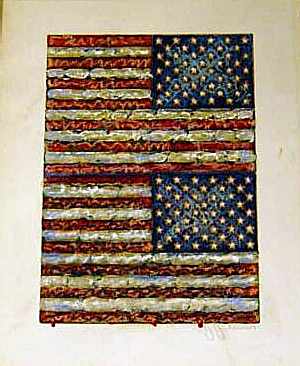 Watch this item
The seller, webewinn, Mount Clemens, Michigan United States
AMERICAN POP ART encaustic (oil and wax). Two American Flags
Description: Encaustic on artists board, 15 X 111/2 inches, plus 1/2 inch gold frame. SIGNED [J. Johns].
Please contact us if you have any questions.
See My Other Auctions. All sales Final.
artfakes.dk:
All paintings offered by webewinn, Mount Clemens, Michigan United States and lady-frisko, MIchigan United States, one and the same person, are FAKES.They are signed Picasso, Johns, Léger, Modigliani, Foujita, Chagall, Picabia, Le Corbusier, Klimt, Magritte, H. Rousseau, Laurencin, Utrillo, Dali, Paul Fischer and others.
But ALL of them are FAKES.
---
Thursday, 1 June, 2006, 00:13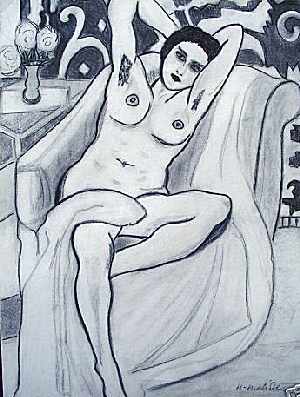 Watch this item
The seller, cahillart, United States of America, United States:
Offered for auction is this original charcoal drawing signed h. Matisse. Henri Matisse did many drawings of this subject.
The drawing is in overall excellent condition for its age. It is guaranteed not a print of any kind and has been stored unframed. The measurements are 9.5 inches wide and 12.5 inches high.
This work was acquired in france approximately thirty years ago at an estate art sale that contained a large collection of european and american fine art. The estate sale was held aboard a luxury yacht near Cannes on the French riviera.
Sold as is--(as described)-- with regard to its characteristics and quality, thereby complying with the very same methods employed by all the major auction houses, including Sotheby's and Christies. This work and others, come wthout confirmed attribution or provenance. Do your own research prior to bidding. Bring your own experts and feel free to ask questions. There is no reserve price and auction results are final.
artfakes.dk:
This drawing will never be sold at Sotheby's or Christie's.
It's a FAKE.
---
Wednesday, 31 May, 2006, 23:07
Watch this item
The seller, timcollie75, 0, United Kingdom:
What is being offered is a large cubist collage attributed to Pablo Picasso, from the period 1912 - 13 when he did many similar works, some in conjunction with Braque.
The work has many stamps and markings on it which help to trace its history but unfortunately we cannot work out a full provenance at present so it must be offered as attributed to. one on the stamps is from Galerie Georges Giroux, the influentual Belgian gallery, which exhibited Picasso, and held sales from about 1916 - 1960. A full catalogue raisonné of activity has been printed which would help to get a clearer history of the piece. The is another unreadable stamp in red on the rear and one on the bottom front right corner. A Schwatz and Picasso Kat no 15 as well as WA12 Serner Zurich are also present on the back.
artfakes.dk;
Always the same story.
Read about attributed to
---
Back
Next