Saturday, 4 March, 2006, 23:57
Watch this item
The seller, barged, Chicago, Illinois, United States:
Is it Leger? Or Picasso mocking Leger? Fall of France?
Here's a painting that speaks for itself. If anyone has any information about this or any thoughts, feel free to pass them on. Painting is in a Dutch frame if that is any clue. Thanks!
Keywords:
$300,000.00 PAFA, Benezit, Rockport, Provincetown, Woodstock, Bucks County, Sotheby's, Sotheby, Christie's, Guggenheim, Harriet Lumis, listed artist, Renouard, Louis Bosa, Picasso, Renoir, modernist, fifties, 50s, eames, Davenport, Davenport's, New Hope, Cleveland Institute of Art florence knoll george nelson, knoll, saarinen, jens risom, jean prouve robert emmett owens
artfakes.dk:
Another keyword: FAKE
---
Friday, 3 March, 2006, 18:43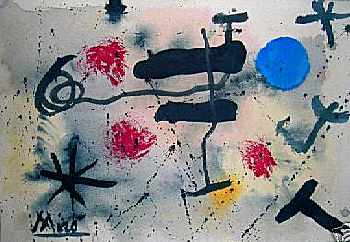 Watch this item
The seller, ritterkreuz33, Bordeaux, France:
Magnifique peinture originale JUAN MIRO.
Current bid (March 3): EUR 1.00 (Approximately US $1.20)
artfakes.dk:
$1.20 for an original painting by the world-famous artist Joan Miró is not expensive.
---
Thursday, 2 March, 2006, 11:46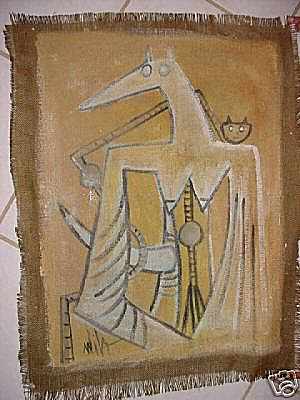 Watch this item
The seller, guada07, BOCA RATON FL, United States:
NICE WILFREDO LAM.
This magnificent painting (OIL ON YUTE - CANVAS) is signed "W.Lam", represent abstract figures. This work of art is unframed - very good condition. This piece was bought in state sale. I don't have certificates of papers but the painting look old and I can guarantee this is a hand painting work of art. not print. Look the picture of the back. Measures: 30.5" x 24.5".
artfakes.dk:
This wall-hanging has nothing to do with an original Wifredo Lam.
Give it away to the Salvation Army!
---
Wednesday, 1 March, 2006, 00:56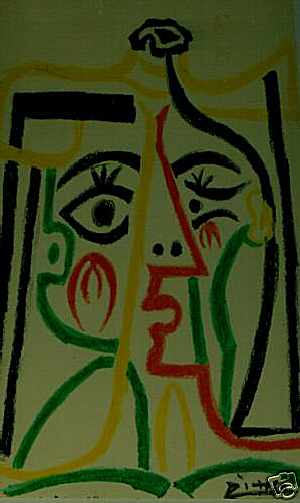 Watch this item
The seller, wa4681, U.S.A.:
This is guaranteed to be an authentic original crayon drawing done by Pablo Picasso. The piece is signed Picasso in the lower right. This is one of the finest examples of his work. We have an impeccable provenance for the piece. We also have the business card from the time of purchase, from the shop in Paris France. There is a quote on the front for a Mary Cassatt pencil sketch. The piece also comes acid free matted, and framed with UV glass.
artfakes.dk:
Every day at least 20-30 paintings and drawings signed Picasso are offered at eBay. All of them are fakes. This picture is one of them.
---
Tuesday, 28 February, 2006, 00:00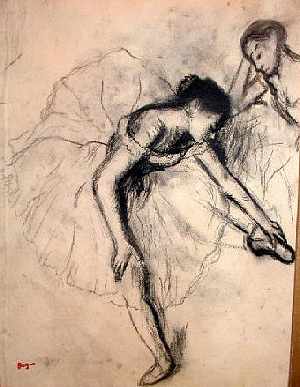 Watch this item
The seller, likeschool, Korea, South:
Rare Degas Charcoal drawing of a Dancer.
History/Provenance: The work comes with Provenance(Private Collection/Belgium) but no COA(Certificate of Authentcity).
This is the letter from the previous owner:
"Hello, thank you for your mail. Sorry but my english is poor.I have no COA but I know the provenance of the drawing. My great-father liked +++ art and the artists and took many trips. He bought this beautifull drawing in Scotland, in a gallery (Gifford and Mair) at the beginning of the century (20th).This gallery doesn't exist any more. I received some drawings when my father died. I have no time and no money to make expertise, but it is an old and wonderful drawing, and I think it is an original. I hope to buy it to a private people and not to a gallery."
artfakes.dk:
Just another great story-teller.
---
Back
Next