Friday, 2 June, 2006, 17:04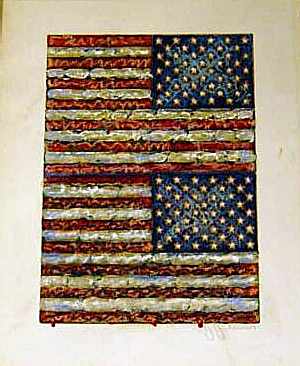 Watch this item
The seller, webewinn, Mount Clemens, Michigan United States
AMERICAN POP ART encaustic (oil and wax). Two American Flags
Description: Encaustic on artists board, 15 X 111/2 inches, plus 1/2 inch gold frame. SIGNED [J. Johns].
Please contact us if you have any questions.
See My Other Auctions. All sales Final.
artfakes.dk:
All paintings offered by webewinn, Mount Clemens, Michigan United States and lady-frisko, MIchigan United States, one and the same person, are FAKES.They are signed Picasso, Johns, Léger, Modigliani, Foujita, Chagall, Picabia, Le Corbusier, Klimt, Magritte, H. Rousseau, Laurencin, Utrillo, Dali, Paul Fischer and others.
But ALL of them are FAKES.
---
Thursday, 1 June, 2006, 00:13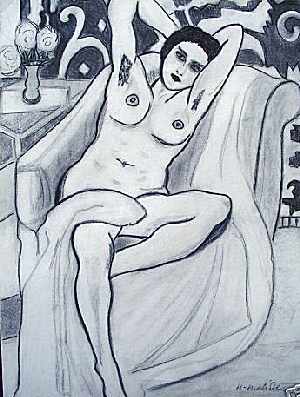 Watch this item
The seller, cahillart, United States of America, United States:
Offered for auction is this original charcoal drawing signed h. Matisse. Henri Matisse did many drawings of this subject.
The drawing is in overall excellent condition for its age. It is guaranteed not a print of any kind and has been stored unframed. The measurements are 9.5 inches wide and 12.5 inches high.
This work was acquired in france approximately thirty years ago at an estate art sale that contained a large collection of european and american fine art. The estate sale was held aboard a luxury yacht near Cannes on the French riviera.
Sold as is--(as described)-- with regard to its characteristics and quality, thereby complying with the very same methods employed by all the major auction houses, including Sotheby's and Christies. This work and others, come wthout confirmed attribution or provenance. Do your own research prior to bidding. Bring your own experts and feel free to ask questions. There is no reserve price and auction results are final.
artfakes.dk:
This drawing will never be sold at Sotheby's or Christie's.
It's a FAKE.
---
Wednesday, 31 May, 2006, 23:07
Watch this item
The seller, timcollie75, 0, United Kingdom:
What is being offered is a large cubist collage attributed to Pablo Picasso, from the period 1912 - 13 when he did many similar works, some in conjunction with Braque.
The work has many stamps and markings on it which help to trace its history but unfortunately we cannot work out a full provenance at present so it must be offered as attributed to. one on the stamps is from Galerie Georges Giroux, the influentual Belgian gallery, which exhibited Picasso, and held sales from about 1916 - 1960. A full catalogue raisonné of activity has been printed which would help to get a clearer history of the piece. The is another unreadable stamp in red on the rear and one on the bottom front right corner. A Schwatz and Picasso Kat no 15 as well as WA12 Serner Zurich are also present on the back.
artfakes.dk;
Always the same story.
Read about attributed to
---
Tuesday, 30 May, 2006, 00:00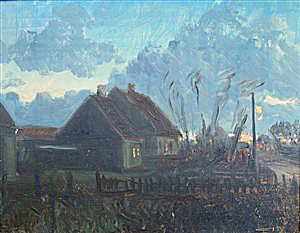 .
Watch this item
The seller, www.lauritz.com, Denmark:
Peder Severin Krĝyer 1851-1909
Lot number: 739585
PEDER SEVERIN KRĜYER. Oil on board. Skagen houses at dusk. Signed S. Krĝyer, November 1901 30 x 38 (39 x 47). Provenance: Private collection of Skagen art, acquired via several generations of Skagen inhabitants.
artfakes.dk:
This painting has nothing to do with the world-famous Danish artist P.S. Krĝyer. It's a cheap piece of canvas worth about $100
---
Monday, 29 May, 2006, 00:00
Watch this item
The seller, yg_spinsation, Sydney, New South Wales, Australia:
This amazing drawing was acquired in Western Europe, part of an estate which contained a lot of artworks. It is attributed to the revolutionary master PABLO PICASSO, with "Picasso" signed clearly on the lower left. The date is unknown and the drawing is intact in GREAT condition, quite a big work measuring approx 12 inches wide and 16.5 inches high. The medium is graphite, pastel and colored pencil, and it has been stored unframed. It would look spectacular if framed. The provenance is uncertain, thought to be part of a private European collection.
artfakes.dk:
The drawing is a fake.
The signature is a fake too...off course.
The seller can't sell it as attributed
Read about attributed to
---
Back
Next