Thursday, 2 June, 2005, 01:01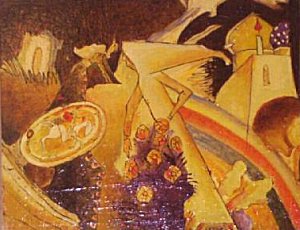 Watch the sale:
http://cgi.ebay.com/ws/eBayISAPI.dll?ViewItem&item=7326603170
The seller:
You are bidding on this masterpiece of the early Abstract Expressionism. This painting comes from a private art collection in Berlin, Germany. Although it is not signed, it can be assumed that this is an early work by the famous Russian artist Wassily Kandinsky (1866-1944).
artfakes.dk:
NO, you are NOT bidding on a masterpiece.
---
Wednesday, 1 June, 2005, 00:36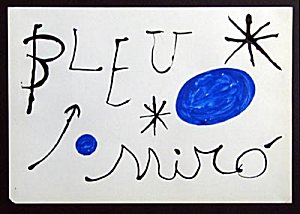 Watch the sale:
http://cgi.ebay.com/ws/eBayISAPI.dll?ViewItem&item=7326356697
The seller:
Miro made thousands of original sketches, in various media, during his long lifespan of 90 years. Prices for these ORIGINAL works can go very high. Our starting price is extremely LOW for a UNIQUE painted WATERCOLOR GOUACHE by this world-renowned and celebrated artist. There is NO RESERVE on this auction.
artfakes.dk:
That's right! Miró made thousand of original sketches.
But NOT this one.
---
Tuesday, 31 May, 2005, 00:49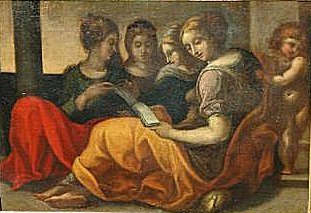 Watch the sale:
http://cgi.ebay.com/ws/eBayISAPI.dll?ViewItem&item=7325727437
The seller informs:
"Oil on canvas , "A MUSICAL PARTY " attributed to the well-listed French Baroque Era Painter, Nicolas POUSSIN (1594-1665). Major Sirr Collection.
The framed canvas is in excellent condition and ready to hang. The size of the painting is 18 1/2" x 25 1/2". The size of the frame is 24 1/2 " x 31 1/2".
Plaque reading "Jacopo Bassano, 1515 –1592." I am not sure whether this beautiful painting is a work of Bassano since it does not appear to be signed and has not been authenticated.
This painting comes from an estate sale. Out of curiosity to determine artist, I recently removed the brown paper that sealed the back of the frame and discovered some interesting news. Very old handwriting on back of the wood frame states " A Musical Party" by a N. Poussin (1594-1665)".
Read more on the sellers site
artfakes.dk:
Take a closer look at this genuine painting by Poussin and compare it with the above shown:
http://www.artrenewal.org/asp/database/image.asp?id=13198
---
Monday, 30 May, 2005, 00:43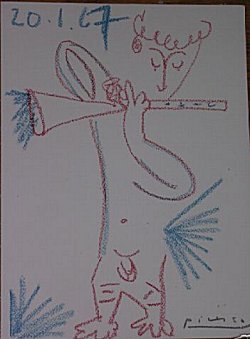 Watch the sale:
http://cgi.ebay.com/ws/eBayISAPI.dll?ViewItem&item=7326297158
The seller informs:
Pablo Picasso drawing. Really nice.
11 x 14 drawing on Arches paper signed Picasso. No reserve. No paperwork or COA came with this item-- we didn't get any so we won't print up any! Sold 'as attributed.' No research has been done on this print, so GOOD LUCK
artfakes.dk:
Yes! Good Luck! Very nice 5 dollar piece of paper.
May 30, 2005:
Invalid Item
This listing (7326297158) has been removed by eBay or is no longer available. Please make sure that you've entered the item number correctly.
If the item was removed by eBay, please consider this transaction canceled. If anybody contacts you to complete the sale, please ignore the request. Completing the sale outside of eBay may be unsafe and will not be covered by eBay purchase protection programs.
---
Sunday, 29 May, 2005, 11:59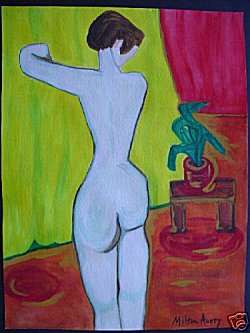 Watch the sale
:
http://cgi.ebay.com/ws/eBayISAPI.dll?ViewItem&item=7325174474
The seller informs:
THIS ORIGINAL MILTON AVERY WATERCOLOR IS ONE OF A NUMBER OF PAINTINGS AND DRAWINGS THAT WILL BE OFFERED FOR AUCTION ON EBAY. NOT A LITHOGRAPH OR PRINT OF ANY KIND.
THERE IS NO REASON TO GO ON ABOUT THIS GREAT AMERICAN ARTIST ...... MILTON AVERY. THIS WORK SPEAKS FOR ITSELF.
IT IS IN EXCELLENT CONDITION. IT MEASURES 12.2 INCHES IN WIDTH AND 16 INCHES IN HEIGHT. THE DRAWING HAS BEEN KEPT UNFRAMED FOR MANY YEARS. THIS WORK, AS WELL AS A NUMBER OF OTHER WORKS OF VARIED ARTISTS, HAS COME TO ME VIA MY GRANDPARENTS. GRANDFATHER WAS RUSSIAN BORN AND TRAVELED EXTENSIVELY AS A VIOLINIST, AND CONCERTMEISTER FOR BALLETS, ETC. THERE WERE MANY STORIES OF HIM TRAVELING AND WORKING WITH FAMOUS ARTISTS AND MUSICIANS. AS A PRACTICAL MATTER THIS DRAWING IS OFFERED AS ATTRIBUTABLE TO ARTIST. WILL GO TO THE HIGHEST BIDDER. NO RESERVE. BID WITH CONFIDENCE.
artfakes.dk:
Beware of the seller, goldielox2(305). He is known for selling fakes.
This painting has nothing to do with Milton Avery. And it certainly does not descent the sellers grandfather, a violinist and concertmaster.
It was painted recently, in that sense it's a brand new painting. Any art expert can tell that.
Artfakes.dk advises you not to buy anything at all from this seller.
---
Back
Next